Bird flu hits second chicken flock in U.S. and its largest farm yet
23 minutes ago • JULIE BUNTJER Forum News Service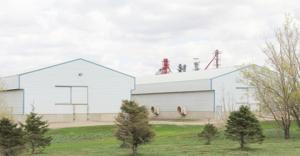 Shown are barns at the Sunrise Farm egg-laying operation south of Harris in northwest Iowa. It was confirmed Monday that 5.3 million laying hens onsite will need to be humanely euthanized due to the presence of H5N2 avian influenza.
HARRIS, Iowa — Bird flu has hit only the second known chicken flock in the United States and its largest flock so far, the U.S. Department of Agriculture's Animal and Plant Health Inspection Service (APHIS) confirmed Monday.
The highly pathogenic H5N2 avian influenza struck a commercial egg-laying chicken flock of 5.3 million birds in 25 barns in Osceola County in northwest Iowa not far from the Minnesota border.
The confirmation marks the largest poultry operation in the United States to be struck by the deadly influenza strain since APHIS first reported the presence of H5N2 in the country last December.
While state and federal authorities do not identify the operation that has been struck by the virus, Osceola County is home to just one large egg-laying operation -- the 21-year-old Sunrise Farms near Harris.
According to a press release issued by the Iowa Department of Agriculture and Land Stewardship, the egg-laying flock experienced increased mortality and, as a result, samples were sent to labs at South Dakota State University and then to the APHIS National Veterinary Services Laboratories (NVSL) in Ames, Iowa, and findings were confirmed.
The Ames lab is the only internationally recognized avian influenza reference laboratory in the U.S.
Dustin Vande Hoef, communications director for the Iowa ag department, said late Monday that the farm has been quarantined and birds on the premises will be euthanized as soon as possible to prevent spread of the disease.
"They're trying to move as quickly as possible just because it is a disease that is hard on the birds," Vande Hoef said, adding that the farm is working with the USDA.
Vande Hoef said the laying hens in all of the 25 large barns will be humanely euthanized.
"The site is contaminated at this point," he said.
Unlike turkey barns that have been hit with the avian influenza, where composting of the birds was done onsite, Vande Hoef said Monday he did not yet know how the chickens would be disposed of. Once the birds are cleared from the site, the process of cleaning and disinfecting each of the barns will begin.
Vande Hoef wouldn't speculate how long it may take before birds could be brought back into the site.
"It will take some time before they are able to operate again," he said.
Monday's news came exactly one week after the first reported case of H5N2 avian influenza in Iowa. The deadly virus was reported in a 27,000-head commercial turkey flock in Buena Vista County, also in northwest Iowa, on April 13.
The announcement has put egg-laying facilities on heightened alert in Iowa. The state is home to more than 50 million laying hens, which produce nearly one in every five eggs consumed in the U.S.
Until Monday's confirmation of the avian influenza in the egg-laying facility near Harris, there had been only one report of the deadly H5N2 avian influenza in a chicken flock, and that was in Wisconsin.
According to the APHIS, chickens afflicted with the avian influenza may show a variety of symptoms, including a lack of energy and appetite; decreased egg production and/or soft-shelled or misshapen eggs; swelling of the head, eyelids, comb, wattles and hocks; a purple discoloration of the wattles, combs and legs; a runny nose, coughing and/or sneezing; stumbling or falling down; diarrhea and sudden death without any clinical signs.
Meanwhile,the Iowa ag department reported Monday that, in partnership with the Iowa Department of Public Health, they are working directly with poultry workers at the site on health and safety precautions.
Vande Hoef said there has been no known impact to the workers, with the risk to people from the infections in wild birds, backyard flocks and commercial poultry, to be low. No human infections with the virus have ever been detected.
Vande Hoef said all poultry producers in the state are "very focused" on biosecurity.
"They all feared this," he said, adding that they will now have "to reevaluate and focus on making sure everything is clean."
The virus strains can travel in wild birds without those birds appearing sick. People should avoid contact with sick/dead poultry or wildlife.
All bird owners, whether commercial producers or backyard flock owners, should continue to practice good biosecurity, prevent contact between their birds and wild birds, and report sick birds or unusual bird deaths to state/federal officials through USDA's toll-free number at 866-536-7593. Additional information on biosecurity for backyard flocks can be found at healthybirds.aphis.usda.gov.
According to the Iowa Area Development Group website, Sunrise Farms began producing eggs in 1994. Two years later, egg grading and packing began, and by 1999 the company began marketing liquid eggs. In 2002, Sunrise Farms had approximately 3 million laying hens and produced 65 million dozen eggs a year. The farm had since expanded to more than 5 million laying hens.
http://bismarcktribune.com/news/state-a ... 57844.html